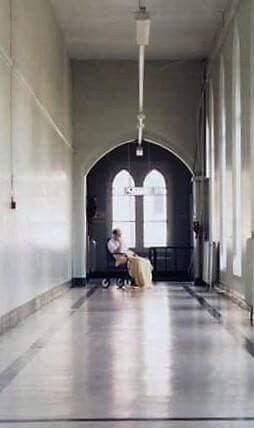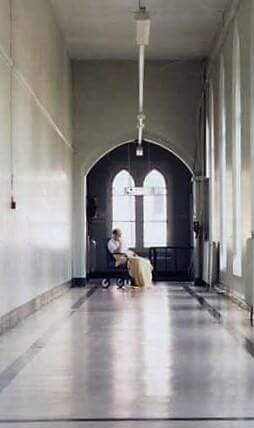 Contemplating the enormity of a catastrophic tragic road traffic accident. Lonely hours spent in the corridors of The General Infirmary at Leeds. Photo: © Nigel Ibbotson
'Being Malcolm – Too Many Heartbeats' ©
New Abridged Synopsis.
A cathartic autobiography blending the emotionally disturbing with inspired life fulfilment.
Award-winning career success interwoven with extremes in personal life failures.
'Being Malcolm – Too Many Heartbeats' charts a lifetime with four marriages; psychologically damaging episodes of tragedy; a childhood blighted by misguided religious zeal, providing a deeply disturbing insight into religious manipulation and control.
'Too Many Heartbeats' journeys through many positive and heartwarming stories, in addition to major news features of life and tragedy recalled from an extensive career archive.
BBC Radio broadcasting and television documentary filmmaking from within the worst of Europe's wartime tragedies – the former Nazi death camps of Auschwitz.
Too Many Heartbeats.
A motor sports dalliance as lead driver with Swedish factory managed Team Challenger SAAB, was as exciting as life could get. Fate intervened and the high profile public project would be cruelly ended in a catastrophic road traffic accident which left one friend and colleague dead and another critically injured, while I fought for my own life and a resemblance of recovery in hospital for months.
Organising Scotland's National Polish Tribute. The design and construction of a monument from quarrying, mason sculpting, and the forging of bronze plaques; providing for the friendly invasion of 8,000+ additional folk into the Borders town of Peebles; WW2 military sideshow events; a huge banquet; a Royal Air Force flypast; and the unveiling of Scotland's first Polish National Memorial dedicated to its exiled forces who fought and died alongside British Forces.
Working in Gaza, Palestine – a tragic and devastated landscape of hopelessness for its people, many of whom are the kindest and most welcoming of suppressed human beings. An occupied country – in contravention of multiple U N resolutions – in a region of historic cyclical violence and tragedy.
Too Many Heartbeats
Sporting achievements and highlights as Team Manager of footballing minnows St. Albans United Football Club. Coaching and managing the first team on an historic tour of America, and winning the inaugural Atlantic Cup. Managing an amateur team in a match against the elite European professionals of Swiss giants GC Zurich FC at their superb stadium.
'Being Malcolm' relives excessive repetitive personal losses; continuous recoveries from multiple invasive surgical replacement, and repairs to a body shattered in a fatal road traffic accident.
Thereafter, a cyclical recurrence of multiple recoveries from 16 invasive surgeries over 28 years, culminating in brutal home truths of a life adjusting to the onset, progression, and debilitating effects of Parkinson's. More recently, a diagnosis of Polytrauma – a condition formed of multiple traumata.
From catastrophic car wreck survival, to successfully fighting through a throat cancer, to life-changing diagnosis of Parkinson's; each forming a life with 'Too Many Heartbeats'.
Countering all the negative elements of life came acts of immense kindness, loyalty, love and generosity. The very best of humanity whose educated minds and lives are based on truth and integrity.
So many memories of front line and project-led journalism candidly recounted in this cathartic autobiographical account of my life and careers.
'Being Malcolm – Too Many Heartbeats' ©